On Monday, my kids said some of the neatest things:
We went to Bass Pro Shops, My 2 year old son and I were separated from my DH and DD. I figured we would find them at the Huge fish tank. So, we made our way over to the tank. While we were walking up to the fish tank, my son sees the fish and yells out "I need my fishin' pole!" Then he looks at me and deep into my eyes and demands "I need my fishin' pole!!!'
While traveling in the car, my 3 year old daughter exclaims from the backseat, "Mommy, I found Jesus!!" That's great, I say a little perplexed. (holding up her book she points and says) "Right here mommy (spelling) J-E-S-U-S!"
Tuesday, I dropped my husband off at work. His truck has been broken for about 9 months now. We have tried to fix it a couple of times; the last change we made -2 weeks ago-was putting in a new starter. This is the closest we came to having it start, but it just wasn't getting gas and wouldn't 'start'. We figured that since the other fuel pump (his truck has 2 tanks) had gone out that the other one had finally gone too. Sometimes, I take him to work, sometimes he just takes the car and we stay at home. 
Well, after we dropped him off, my kids and I went to Denny's for Lunch. It was so much fun. We followed lunch with a trip to the playground. The kids played I worked on the pom-poms for the pom pom baby blanket.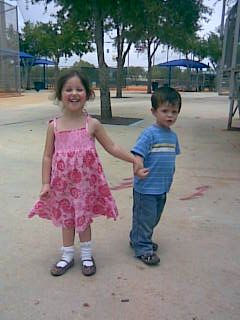 Then, my husband called. There was too much rain to get done what he needed to get done. We went and picked him up. All 4 of us went shopping at Wal-mart. Then, home for nap time for the kids and quality couple time (woo-hoo!).  I started dinner for DH and DS. The kids woke up. DD and I left for our stitchery club meeting. The meeting was fun. I am trying to teach one of the knitters how to crochet; she is a natural and doesn't really need me, but it was fun teaching her anyway. I get a text from my husband that he had been trying to start the truck off the wrong tank. HA HA HA. I got a bunch of goodies from the ladies at the meeting. I always feel so blessed to receive. I got a whole stack of crafting books--yippee! I leave the meeting and called my DH. He and DS were driving the truck around the block--I remind him that the tag is 9 months overdue, and laugh that his truck is working again because it has been so long since it has moved. I hope we take it fishing this weekend.