I just wanted to share the news that my family has grown.... Introducing...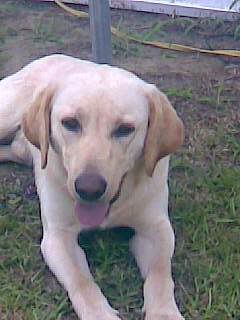 "Hunter Pumpkin Johnson" This boy moved in under my porch and adopted my family more than a month ago. The neighborhood kids and I named the stray Hunter. To our surprise he had a 'owner', and his name was Gus, but he didn't seem to want to live with them or be named Gus. An incident happened that was blown WAY out of proportion and the law was called on the mostly lab with a touch of lazy howling hound by the so-called owner; the officer was quick to notice that the puppy was far from aggressive and quickly left without the dog. My husband made the decision that we would adopt the creature that had already moved in. After officially having him for a couple of days and after getting the collar, leash, flea treatment, chain, etc., Amelia decided he needed a full name and by her word she added Pumpkin Johnson. :) This member came first. I am pleased to announce Country Kitty Johnson.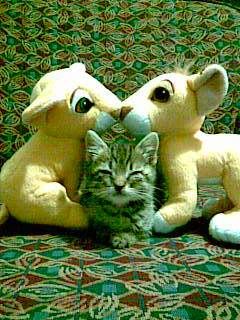 She was living by herself in a dilapidated tobacco barn that's being held up by the weeds and Ivy that encompass it. Hubby's great Aunt has a strawberry farm and everytime they walked passed the area they heard a young faint meow. There was a 'mama cat' deceased on the highway in front of the farm. They asked me to see if I could get it because it wouldn't come out or go to them. I went back to the approximate spot of the baby and just meowed for it, and me being the cat whisperer that I am, she just walked right out, let me pick her up, and I walked back to the strawberry farm. I took her over to another house where I knew a mama cat was and tried to initiate an adoption, but the mama didn't want anything to do with a new baby. Poor Kitty was desperately after the milk from the mama cat, but without success. We took her home to restore her to health and doubled her weight with-in 1.5 days. We are not supposed to have indoor pets, but kitty just doesn't like the outside....especially after Hunter moved in. I wanted to name her Sergeant Fuzzypants, but I was out voted.