Ingredients:
Favorite sugar cookie recipe or store bought sugar cookie dough 
Strawberries--about a half gallon
8 oz (1 package) cream cheese
confectioners sugar
whipped topping or whipped cream
****************
Use a round pizza pan
Cover with foil
(Spray with non-stick spray)
put cookie dough on pan
place wax paper on top of the dough
Either smooth down the dough with hand or use a rolling pin to make cookie dough cover the pizza pan ala pizza dough
remove wax paper
-Cook in accordance with cookie dough recipe/instructions. Perform a and b while cookie is in the oven
a. Sweeten cream cheese to desired taste by adding powdered sugar to preferred taste...if unsure start with 1 cup blend in using mixer on medium speed 
b. Hull/remove the green of the strawberries 
cut tops and bottom off strawberries--to be used in 'pizza sauce'. These pieces will be crushed to look like sauce. I used my onion chopper. 
slice strawberries for the 'pepperoni' put aside
1. When giant cookie/'pizza' crust comes out of the oven, spread a thin layer of sweetened cream cheese (scc). Let cookie cool and the sweetened cream cheese harden.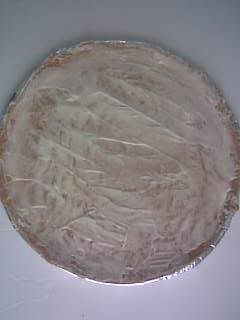 ***************
2. Using the tops and bottoms of the strawberries, crush strawberries to make 'pizza' sauce.
Spread the strawberry sauce on the hardened sweetened cream cheese.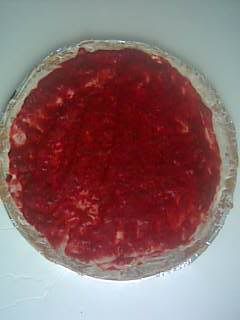 **************
3. I used a cake decorating bag, but this can be done using a ziploc bag or other inventive way to add the sweetened cream cheese. 
Zig-zag the sweetened cream cheese across the strawberry sauce.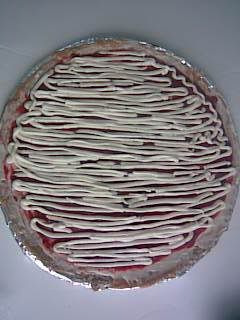 ***************
4.  Starting from the middle of the 'pizza', spiral the whip cream (from a bag or the can) to the outside of the pizza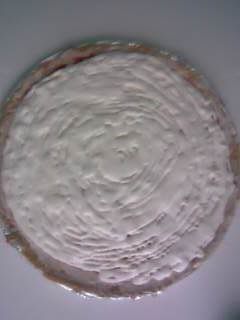 ****************
5.  Garnish with strawberry slices (to look like pepperoni)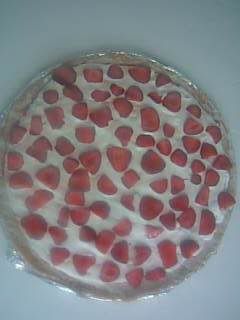 Ta-Da Strawberry Pizza!
My tip--To add sausages (or for a red-white-and blue look)--just toss on some blueberries!